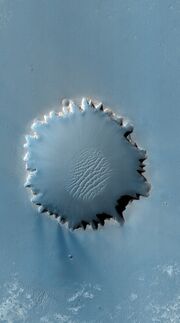 Victoria Crater is a large impact crater in the region of Meridiani Planum. I'ts diameter is at it's widest 803 meters long and at it's narrowest ± 610 m.
The crater became famous after the visit of one of the Mars Exploration Rovers called: Opportunity. At it's deepest point ,78 meter deep, is a bed of dunes, which can be evidence of formal presents of water.
This page is a stub
This page is a stub, you can help us by expanding it.
get an account or log in and click on 'edit this page' above, if you can provide more or better information.
Ad blocker interference detected!
Wikia is a free-to-use site that makes money from advertising. We have a modified experience for viewers using ad blockers

Wikia is not accessible if you've made further modifications. Remove the custom ad blocker rule(s) and the page will load as expected.